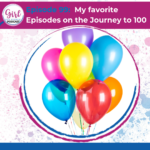 Episode 99
In honor of getting close to our 100th episode milestone, I wanted to talk about my favorite and most impactful episodes ever. There is my most downloaded episode to episodes my audience resonates with the most. There is an episode around my love of hip hop to having some of my favorite people as guests, sharing their expertise and real SEO stories. It's really been a remarkable journey. 
This journey has allowed me to share my knowledge of SEO and its benefits to your business, while also showing other people's brilliance. 
As a podcaster, it is easy to get discouraged when you don't see the metrics you want to. But don't give up. Just a year ago, we celebrated 100,000 downloads, and now in just one week, we will be celebrating 100 episodes of amazing content.
In this episode, you'll learn:
Why is this such an important moment for the show?
What are my favorite episodes and why?
What are some of the topics I have spoken about in the past?
Who are some of the guests I've had, to share their knowledge?
What will happen for the 100th episode?
Episode 100 will be LIVE and I will be getting interviewed by our special guest host, Kishshana Palmer on April 13, 2022 at 7:00 PM ET. You don't want to miss this!
Want to provide some questions for the interview, go to girlgetvisible.com/askme
Resources
Here is the list of all the episodes I mentioned, I really hope you enjoy listening to them!
Episode 21 – Branding, Building, and of course Selling your Products with Guest Arsha Jones
Episode 22 – Selling your Products in Today's Market & Building for the future with Guest Arsha Jones
Episode 27- The Secret to a Viral Post on Facebook with Guest Rachel Miller
Episode 30 – How I run my Business with only a few Hours a day, and never work 7 days a week
Episode 39 – The Government gives out $115B dollars in small biz contracts each year, are you missing out – Guest Adrianne Callahan
Episode 40 – Getting Your Business Right with Government Contracts – Guest Adrianne Callahan
Episode 41 – Stop Sitting at Tyler Perry's Table and Make Your Own Table
Episode 50 – When Did You Fall in Love with Hip Hop?
Episode 60 – The Battle: Copy vs. Content vs. SEO
Episode 66 – Getting Visible with Podcast Community with Guest Danielle Desir
Episode 67 – Maximizing Your SEO Visibility Season with Guest Mischelle O'Neal
Episode 68 – Should You Focus on SEO or Facebook Ads with Guest La'Shonda DeBrew
Episode 69 – Getting Visible in a Crowded Market with Guest LaShayla Simpson
Episode 71 – The Business of Creating your Brand with Guest Stephanie Arnold
Episode 72 – Growing Engaging Groups with Sandra De Freitas
Episode 76 – The Mindset Blocks that are Stopping your SEO
Episode 79 – Manage Your Money as an Entrepreneur with Guest Belinda Rosenblum
Episode 80 – Growing a Successful Business with Guest Tasha Booth
Episode 81 – Building a Sustainable Business Model with Membership Sites – Guest Stu McLaren
Episode 82 – Keep Your Business On Track this Summer
Episode 87 – Are You a Coach and Don't Know it Yet with Guest Kim McCarter
Episode 90 – Healthy Boundaries in Your Business Are Important
Episode 94 – Pivots, Pregnancy and Pandemic with Guest Brittany Raji Alberty
Episode 96 – The Worst Podcast Pitches I've Received
Ways to connect with Girl Get Visible for the 100th Live Episode:
Girl Get Visible Facebook: https://www.facebook.com/GirlGetVisible
SEO Growth Mob Group: https://www.facebook.com/groups/SEOGoodyMob
Girl Get Visible YouTube: Girl Get Visible- SEO and Content Marketing