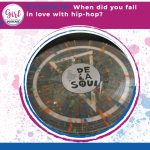 In this episode We hear clips from hip hop greats like Pete Rock, Talib Kweli, Black Thought, Quest Love, Kool G Rap, Russel Simmons, and De La Soul on their falling in hip hop moments; and host Akilah Thompkins-Robinson digs into lesson we can learn about buying triggers from these moments in hip hop.
I know you're thinking what does hip hop have to do with business, SEO, marketing, and the Girl Get Visible Podcast, well not a lot on the surface but if when you look at what makes people fall in love with hip hop, a certain song, or artist you'll find there is a lot we can learn about getting people to fall in love with and buy our products.
Taking actions and buying a product or service is a more an emotional decision than a logical one. Yes, people know they need a thing, but what's that moment that makes you jump in to get?
In marketing, we see a lot of talk about pain points and we're pushed to talk about problems our client has, but we skip the most important buying triggers that lead to the moment people take action and are hooked.
What you learn:
Difference between pain points and buying triggers.
How buying triggers can turn your leads into customers.
How to identify your audience's buying trigger?
How to create buying triggers in your customer's journey
The different triggers that influence buyer behavior