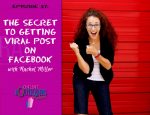 Have you wondered how people get 1000s and millions of views on Facebook or even more important, how could YOU get millions on facebook? Well, Rachel Miller has figured it out.
I know we talk a lot about SEO around here, but I had to have Rachel on talking about how she is going Viral and pretty much SEO-ing Facebook.
In this episode, we talk with Rachel Miller of Moolah Marketing all about her system that has been used by top sellers, major corporations, and many more to figure out how to grow that engaged audience and create content that goes viral.
In this episode Rachel…
breaks down the strategy for us
shares an amazing Amazon tip to research customers
shares examples of what type of content goes viral
and tells how we can see big results even with only $5 a day to invest.
This is an action-packed episode that will change the way you look at going viral
Resource:
Viral Cheat sheet: onlineboutiquesource.com/viral