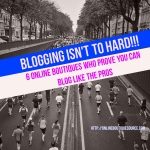 Blogging has so many benefits for online boutiques; I'm still shocked that more people aren't doing it. It's one of the best ways to attract customers without ads and build that know like and trust factor with customers and give visitors a reason to keep coming back for more on your site.  It makes sense if you are going to run your store online that you market it like online marketers. One of the best ways to do this is using content marketing an your blog.
Last month I talked about how to start a successful Blog for your online boutique, and the #1 opposition I get is nobody is doing it and there aren't good examples of real blogs out there. Well my online boutique source Society Facebook group members proved them wrong this week.
Every Thursday in the society, we have a promote and share Thursday where I share a different part of our businesses. This past Thursday we shared our blog post. I was so blown away but the great content our online boutiques are pump out that I decided to make a post and share with all of the naysayers. These Online Boutiques are doing their thing blogging, and they aren't acting like just another clothing blog. they are showcasing their products while entertaining and educating their followers.
Here's a list of latest and greatest articles from our members, how they are making blogging work for their businesses
Show them how to slay
Kierra at The KJones Collections slays the little black dress with hey piece on how to go from drab to fab with a few cute accessories. Readers love when you give ideas on how to make things they own already better.
http://www.thekjonescollection.com/blogs/style/143029255-7-ways-to-accessorize-a-black-dress
Get ready for fashion porn!!!!
Mikaela at Vetudejoy gives us everything with the Recap of her Fashion photo shoot trip to St. Thomas. Travel, fun, and fashion this is a Boutiquers dream come true and customer's fantasy. Showing customers "oh the places they can go" is great way to keep them thinking of you when they are making that list of things they love.
http://vetudejoy.com/blogs/news/97622150-travelinprints-st-thomas-with-renae-bluitt-and-vetu-de-joy
Out with the old and in with the new
Hannah at Nola Rae Boutique gives us a great example of blog post that is about more than just selling. Every post doesn't have to be product product product, sometimes post just help your readers out.
https://www.nolaraeboutique.com/blogs/5-easy-steps-to-spring-clean-your-closet/
Make the difficult easy for them
Teresa at STMT-Statement is helping making a trend that many people find so difficult, so easy. She shows 3 way to wear floral for the Spring, saving the world from potential floral craziness
http://shop-statement.com/3-ways-to-wear-florals-this-spring/
Give them the Steps
Ify at Madison Gems give us another great "how to" of a popular trend, ring stacking. She goes step by step of how to wear them and even gives it
http://madisongems.info/2016/03/08/how-to-stack-rings/
Give the preppers a hand
I love seasonal prep post!!! 2 things people search for the most are gift ideas and tips for the season. I know we have winter every year but for some people like to research, prep, and shop every year like it's the first. Over at Ava Grace Fashions, Jessica is helping all of the winter preppers out with her tips for comfy clothes days. I love this even more because it speaks right to her target customer.
http://avagracefashions.com/1090/snow-days-mean-comfy-days-comfy-clothes/
After reading through some of these you can't tell me you aren't inspired. I'd love to see what blog you are working on, I the comments share your latest blog post.
If you are looking for a community for information and support in your Online Boutiquer journey sign up to join the Online Boutique Source Society, an online Facebook group of 1700 women (and a few men) work towards accomplishing their boutiques dream.