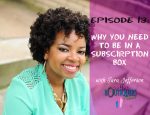 In This Episode:
Our special guest, Tara Jefferson, talks about subscription boxes and why it's important for you as boutiquers to get in them. Why she and her self-care box are the subscription box for you.
We talk about the how to get into a subscription box. We also talk about what to expect from for subscription box owners in term of price to get into boxes, and how to build a partnership between boutiquier and subscription box owner. Tara reveals the kind of return gains from her box and how you can adapt branding from subscription box to subscription box.
If you ever had a question about subscription boxes before; this episode is sure to have the answers you're looking for.
What You'll Learn:
What to look for in a subscription box
How to prepare to be in a subscription box
How own a subscription box
What to shoot for when launching your product
How to pace your growth
Quote
"Feel the fear, and do it anyway."- Susan Jeffers
How to find Tara
Tara Jefferson
Tara Pringle Jefferson is the founder and chief curator of Bloom Beautifully, a self-­care subscription box designed to help overwhelmed women find their inner peace. She is also host of the national #HereWeGrow Self­-Care Retreat, which draws women from around the country for a weekend of reflection and sisterhood every fall. In 2015 Tara released The Good Life: Pep Talks for Solopreneurs based on her years running a business as a one­-woman shop. She lives with her husband and two children in Ohio.