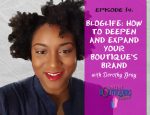 In this episode we talk with Dorothy Gray about how she used blogging and live streaming to connect with her customers and share her boutiques purpose. In this day and age the open market has many different way reach your audience. But still many struggle reaching their target market difficult would be a bit of an understatement. Your audience could be in multiple places with different styles and taste. When you look at it in that way it can be a daunting and demoralizing task. However, what your may miss is that what your audience likes and what your audience appreciates besides your product is you. You have the power to connect and reach your customer on a completely different level. A great tool for that is creating a blog or live stream that connects you to your audience in a deeper way. A blog post or live stream event gives you another way for you to reach out to your current audience and even to new audiences. Our guest today, Dorothy Gray, is the owner of Modern Day Confidence, which is a boutique dedicated to plus sized women, has decided to create both a blog and a live stream. She has been featured on #MelaninBlogger and #IemBodym. Today she will discuss the process of starting a blog or live stream. She gives us some tips about what she did and what you can do to come up with topics for your blog. We dive into why a blog or live stream is beneficial to your brand monetarily. Dorothy also shares with us how her mindset has changed from starting her company to what it is currently, what her growth has taught her and what it can teach you. This episode is chalked full of personal insights about how to get you into #ThatBlogLife.
What You'll Learn:
How to start a Livestream
What kind of expectations you have when starting a blog
How a blog will benefit your company'
Doing something is better than just waiting until you have everything planned
How to communicate with your customers.
Dorothy's Quote
"Confidence starts from within yet gradually is shown through our outer beauty. Confidence is Beauty!"
How to find Dorothy
Books to check out:
Dorothy Gray's Bio
Dorothy Gray empowers women to become more confident in the skin their in. Growing from nothing Dorothy understands that low self-esteem can take over a woman's mind and a state such as this women aren't aware that once they fully in tune with whom they are conquering fears will become a necessity. Dorothy supports women through this process by providing inspiration through style and beauty so that women can also embrace their confidence with pride. Dorothy is the owner of Modern Day Confidence/Boutique, an online blogging boutique. A brand that caters to plus size women who are ready to take the next step outside of their comfort zone. As well as Style Consulting to assist women by pushing them beyond their limitations of the mind.