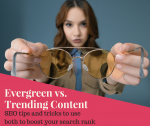 A key part of good SEO is having content on your site. A lot of online boutiques, coaches, and online business entrepreneurs struggle with finding the right content. SEO content writing helps to boost your search engine positions (aka Rankings) a lot faster than just writing alone and it helps give your site visitors more of what they are looking for when that find your site.
We touch on this in our blogging for boutiques post series but in the next few post I'm for to share specific SEO tips and tricks online boutiques and online entrepreneurs can use to get the right traffic with SEO.
A few weeks ago I asked my group, did they know the difference between Evergreen and Trending content, and how it helps with your SEO.
I did a quick live to share more about the different content types and how you can use them for your SEO.
Evergreen content is the content that can be relevant to your visitors for weeks, months, even years later.
So, What is the opposite of evergreen content?
It's trending content. Trending content is content based on a current event, celebrity, or hot topic of the time. We often spend a lot of out timing on social media talking about trending topics, but we miss using them to their full advantage in our business marketing and engagement and putting it on the blogs on our website and getting the SEO advantages  .
The good news is trending content can boost your SEO rankings, attract people who normally would not see your site, and set yourself up as an authority in your space.
Think of sites like Awesome Luvvie, TheRoot.com, and even or even your local radio station's site.
They use trending content to attract visitors and keep the eyeballs on their site.
Need more guidance on your