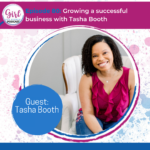 Business Strategies for Growth
Every entrepreneur has a story behind their business. Take a moment to think about your unique story and walk through the journey that has led you to where you are today. The virtual space can feel overwhelming, with every business owner trying to market themselves the best. Here at Girl Get Visible, we always want to stand out from the 'sea of sameness' and be visible to our ideal clients.
When trying to grow your business, it's important to build a strong foundation and gain positive growth. We figure out what we love to do and what clients are contacting us for, our 'zone of genius'.
Introducing our Guest Speaker, Tasha Booth
Founder and CEO of The Launch Guild Agency, Tasha Booth is passionate about helping service providers, such as Online Business Managers and Virtual Assistants, start and grow their own successful businesses. As a past Virtual Assistant, Tasha has real life experiences to use in coaching and services that resonates with entrepreneurs.
Entrepreneurs face new obstacles constantly. For example, an entrepreneur may struggle with getting found by their ideal client. Or maybe you are struggling with balancing all of your workload alone? Having a steady foundation and compassion for what you do, can help with growing a business.
How to grow your business?
Tasha talks about creating a virtual support business with a strong foundation, agency growth and what working in your 'zone of genius' means. For example, Tasha hosted coffee chats and invested in paid programs to add value and business growth.
Are you interested in becoming more visible by successfully marketing to your targeted audience?
Do you know if you are currently working in your "zone of genius"?
Do you currently have a team or are you looking to create a team to assist in the growth of your company?
Are you a new entrepreneur having a difficult time with being more visible to others, especially on social media?
Resources
Tasha has amazing services/resources that can support you in your business. Check them out below:
For a free opt-in from Tasha Booth, please email hello@thelaunchguild.com
If you are looking to receive services and system support for your business, you can check out Tasha Booth's services by heading to: https://thelaunchguild.com/
If you are a Online Business Manager or Virtual Assistant looking to kick it up a notch: tashabooth.com
Also here are additional ways to reach out:
FB: https://www.facebook.com/thetashabooth
IG: https://www.instagram.com/thetashabooth/
About Tasha
Tasha Booth actually began her journey in the online business space four years ago as a VA when she decided she was tired of living an 'ordinary' life on someone else's terms. Now, as the Founder and CEO of the Launch Guild agency, business coach to virtual support professionals, and host of the 'How She Did That' podcast, Tasha is passionate about helping service providers start and grow successful businesses so they can make the life of their dreams a reality.