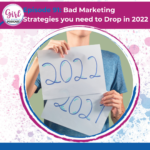 As we jump into 2022. It's a good idea to look at what worked and what isn't working in your business.
A lot of times when we do these reviews we focus on metrics, money, customers to measure how well we did but we rarely look at the marketing strategies, marketing tactics, and overall marketing habits that we need to make to grow scale and have a better year.
This year I'm calling all of my entrepreneurs to level up, if you're a coach, course creator, membership site owner this episode is for you with LOVE.
In this episode, I talk about the bad marketing strategies we need to give up in 2022, I'm sure there are more than a few bad marketing tactics we can talk about but in this episode, I specifically focus on 4 that I think is stopping you from hitting your goals the most: hope marketing, guilt trip marketing, wake up marketing, and "I'm new to business" marketing. These are the ones that are dragging us down so much and are likely why you didn't hit your goals last year.
One of the big messages you'll get in this episode is being consistent and planning out promotions is key in 2022.
And you'll also learn:
Why you need to stop operating like a new business
Why we need to take notes from big businesses and gurus instead of hating on their promotions
Marketing strategies you can replace these bad habits to market and promote better in 2022
How you can strategically use paid advertising like FB ads especially if you have a small budget.
Here are some of the resources for helping get new marketing strategies that I mentioned