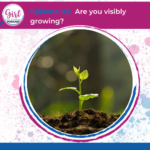 So, they cut my bushes……
Ya'll, my bushes are gone, and I am so upset! The absolute audacity.
So, my husband and I decided to focus on our home's landscaping this year, guess who was really proud of our new budding bushes and growing vine! I was….. This was going to be our home makeover and I could not wait to see what it was going to look like next year. But then, everything took a turn when I went out to check on my bushes and only one was left, with three small leaves.
So how does this tie into our business?
As I was going through a world of emotions, in true Akilah fashion, I remembered that this feeling I was having was familiar. As a business owner, we have all experienced the feeling of our expertise, product, or service being looked over by others. The feeling where you've worked so hard to get your business where it is today, and still no interviews, limited sales, and not enough traffic to your site. Just like my bushes that were not "seen" and mistakenly "removed", entrepreneurs can sometimes be overlooked by others!
As an SEO expert and coach, the majority of my business is built on the foundation of VISIBILITY for myself, my clients and my community. *cues theme music* In this episode, I talk about how to grow visibly to your customers, search engines and others. You know how much time, effort and sacrifices you've made within your business, but that does not mean other people are seeing that through their own lens. It's not about what's visible to you, it's about what's visible to others. So I have a few questions for you:
Are you uncertain about the visibility of your business?
Do you think your business and expertise is being overlooked?
Do you feel like you just want to give up on that business, podcast or even blog?
Interested in tips on ways to grow more visibly?
This episode will give you some laughs, tips, and motivation to get your head back into the game. In all honesty, after going through my world of emotions, I came to the conclusion that my bushes were just not visible enough — let's figure out if that's the same with your business too.
Listen to the story now and head over to our free community, on Facebook, to join the conversation: SEO Growth Mob Facebook
Resources
MY SEO WRITER
Looking for an easier way to create content that attracts clients and boost sales, then check out the MY SEO WRITER TOOL. A demo is readily available for you to check out here: Myseowriter.com/demo