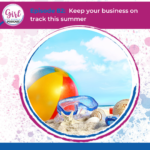 Grab your sunscreen, we are going to the beach!
It is finally summer, my favorite season of the year. The weather is nicer, my son is out of school, there are more events happening and oh yes… vacations! Although it is definitely a busier time of the year for relaxation and fun, entrepreneurs and business owners tend to struggle with actually being present for this time. We tend to focus so much on our business, our clients, and our content, that we forget about someone very important, ourselves. Let's not do this in summer 2021 and in future summers to come! In this episode, I am talking about some tips and tricks that I use to make sure I am having fun with my family and friends, while still managing my business.
This summer, I am encouraging you to give yourself some grace, and know that not everything is going to happen in the summer and that is OKAY! Know that there are now programs, shortcut tools and unique ways to create and promote your content, without actually sitting on your computer.
Are you an entrepreneur who usually do not have fun in the summer, because you are too focused on your business?
Are you looking for shortcut tools that will do most of the work for you, with your content?
Does 1:1 sessions with your clients take up a lot of your time in the week?
Do you want to post more consistent content, without having to be on your computer all day?
Then this is the episode for you! Combining SEO strategies with these tips has made my summer and life so much easier and I had to share it with you. Let's keep your business on track this summer, and still have some fun.
Also, as promised, here are some of the resources and tools I mentioned throughout the show. Click the links and check them out today. You will not be disappointed!
Here are the resources I mentioned to help you streamline your business this summer.
MYSEOWRITER TOOL – make content writing easy
VOXER – the real-time voice communication tool
PENMAN – voice dictation app, speech to text
HELLO AUDIO – helps turn your content into private audio feeds
Let me know which of these tips or tools you use this summer in my free group, SEO GROWTH MOB. This group is where you'll learn how to get traffic using your voice & SEO, as well as get some good content marketing that attracts google and customers.