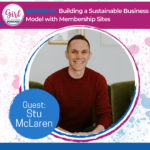 Many coaches, course creators, and entrepreneurs have thought about creating a membership site and recurring revenue business. Today's guest Stu McLaren is the king of Memberships and shares how the recurring revenue model is important because having a membership builds a sustainable business that allows you to make revenue and serve with less stress.
In today's episode, I talk with guest Stu McLaren about how to build recurring revenue businesses with membership and subscription businesses.
Memberships is a widely used sustainable business model and practice, but keeping members and not getting overwhelmed creating content every month is always a challenge for membership site owners.

I've been a membership owner for almost 4 years now. I started with my retailers' membership and shifted to my current SEO membership.

Many people hear about building membership and think all they need to do is throw their content on a membership site on WordPress or membership site on Squarespace and they will magically make money every month.

I learned from our guest today Stu McLaren that a membership site needs strategy and to build a community to continue to grow and thrive.

We talk with Stu McLaren the Owner of Tribe and Master of Memberships at Tribe. Stu McLaren has been running and working with memberships sites for a few decades, starting as one of the founders of membership plugin Wish List members, working with Michael Hyatt on platform University, and now he is the force behind 1000s of memberships working with membership owners in his Tribe program since 2016.

We had a great time talking about recurring revenue model and how it will build a sustainable business that allows you to make revenue and serve with less stress

Here's what you'll learn in this episode:
how to create a membership site that keeps members engaged and excited?
How Stu use affiliates and JVs to help with his Tribe launch
What business will have a lot of success with membership sites
the truth about how and what you can price your membership site
how to start a membership even if you don't have a large audience?
Resource shared in this episode:
Join Stu's free Membership workshop on April 22nd https://girlgetvisible.com/tribeworkshop