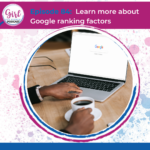 Let's get ranking!
Conversations that use technical terms that typical business owners do not understand, are common. A prime example of this is the idea of ranking factors. Think to yourself as you are listening to this episode and ask, Do I know what a ranking factor is or why it matters. Business owners and entrepreneurs may not be familiar with ranking factors, because it is not always spoken about.
When using SEO as a strategy, having customers come to your site is important, but you are just beginning. If you are not meeting your business goals, such as increased sales or memberships, it could be because there are other factors you need to pay attention to.
Think of ranking factors as a search engine scorecard. You are constantly being graded based on your site's interaction with your customers. Depending on the ranking factor, the higher or lower it is, the more successful your site and content will be in your business goals. Google measures your site, by looking at factors, such as, your site's relevance and popularity, your site's speed and even how quickly someone clicks that exit button. In today's episode, I talk about major ranking factors, why we should care about them and how to get factors into the right ranking.
Do you want to know how ranking factors affect your SEO?
Do you want to know how your website is ranking on search engines?
Are you interested in knowing tips to get into the right ranking?
Do you want your customers to stay and love your business, website, and products?
Then you've come to the right episode. Let's get your site ranking!
Resources
Check out some of the resources I mentioned, that will help not only your SEO but your ranking factors.
Join the Community
Head over to our free community, on Facebook and let us know what you thought about this episode: SEO Growth Mob Facebook.