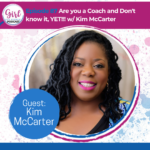 Whether you are a service provider, course creator, or membership site owner you may have a little coaching in you and not using it.
For years I resisted the coach title until I really started to learn what coaching is and how to use it to better serve my clients and members. In this episode, I invited my friend and one of my Coaches Kim McCarter on to talk about embracing coaching and using it in your existing business

I also started working with and joined Kim's Self-Made Success system.  Kim is the coach to the coaches and really helps you to not just run a coaching business but really lean into your strengths and use them to help your clients get better results.

With that, I really wanted to bring Kim on to talk about all of the things around coaching, wealth, and how we use them to level up our businesses.
In this episode, Kim talks about:
how to show up uniquely as yourself in you business
How coaching and learning to coach can help service providers
How current coaches can further level up
How to identify what kind of coach you are (make sure you take the Quiz)
The mindset shift do you need to make in your business to get results
Why we need to normalize the conversations about wealth and wealth-building
You are definitely not going to want to miss Kim and my conversation on black wealth in America at the end (it's like a bonus to the bonus episode).
And check out Kim's quiz https://www.kimmccarter.com/what-type-of-coach-are-you
Favorite Book: Built to Sell: Creating a Business That Can Thrive Without You by John Warrillow
Favorite Quote: "if you live well you should do good, if you do good you should live well"
Website: https://www.kimmccarter.com/
IG: https://www.instagram.com/mskimmccarter/