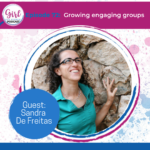 Guest: Sandra De Freitas
Facebook Groups are very common areas for a group of individuals to come together and build a sense of community. Now it's become such a norm, that there is a FB page for everything, from talking about tv shows/movies to self-care tips!
Even us here at Girl Get Visible have our own FB group, where we provide a lot of content, to try to encourage engagement for our group members.
The golden question is, do we know why sometimes FB groups tend to lose its steam?
Today, we are speaking to talented business owner and friend, Sanda De Freitas, of De Freitas Consulting, LLC – to gain insight on ways to increase engagement in your Facebook Groups. Sandra specializes in providing guidance on how to build your group members, maintain and retain their engagement, and prep them to buy your product in your next launch! Sandra has about 16 years of experience in this area and has assisted or been a part of 300 groups!!
Engagement in FB groups are essential to the success of your business and product.
Do you believe that building a FB group right now is essential?
Are you curious to know what engagement in a FB group actually is or how it works?
Do you want to know how to monetize your FB group?
Are you curious in knowing how this can assist with creating successful content?
If you are interested in learning more about how Sandra can help your FB group, visit: girlgetvisible.com/engagedgroups101
Also here are additional ways to reach out:
Email: sandra@engagedgroups.com
Website: www.engagedgroups.com
FB: www.facebook.com/engagedgroups
FB: www.facebook.com/groups/GroupsForEntrepreneursWithSandra/
IG: www.instagram.com/engagedgroups/
About Sandra

Sandra De Freitas is a community expert who helps entrepreneurs grow, engage and monetize their online communities. She has had her hands in over 300 Facebook Groups, been part of 6 and 7 figure launches and been an online entrepreneur for 16 years!