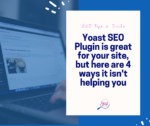 Yoast is by far one of the best WordPress SEO plugins created. It extends the SEO capabilities of your site and gets a lot of people thinking about SEO for the first time.
BUTTTTT
There are some downsides that I thought we should talk about. Now I know, no one EVER wants to talk about the downside of tools that love, but let's face it no one (or plugin) is perfect
I've worked with Yoast for a lot of years as a web designer and now in my SEO business. I also use Yoast on my own sites.
In my SEO coaching, I recommend Yoast's SEO WordPress plugin to all of my WordPress users but I also give them a few disclaimers about what they can and can not expect out of Yoast.  Yoast is great for SEO but Yoast alone does not mean your search engine optimization is done and you will start ranking and getting traffic immediately
Is Yoast good for SEO?
Yes, but it isn't all there is to SEO work, and having Yoast set up on your site does not magically make you SEO great. 
Using Yoast has been known to give a false sense of SEO security to users. Many people think if they install Yoast and get a green light on their post then they are good with SEO. But, there is a lot more to do that's critical to your SEO success. 
This is not a full Yoast SEO review but instead, I wanted to share what's are the things the Yoast SEO plugin doesn't do that you'll still need to work for good SEO results. 
Here are a few things Yoast doesn't do to help your SEO
Yoast focuses on 1 keyword per post, in the paid version you can look at multiple keywords but most of us are only using free so this is a big gap. The 1 keyword limit leads people to believe that you can only use 1 keyword in a post and this is absolutely not true. I recommend always using 2-3 keywords in a post (if they fit the topic). This way your post is doing double triple duty. You 1 post could rank #1 for multiple things. 

Yoast deters you from using the same keyword on multiple pages- I never understood why they set it up this way but you can only select a keyword phrase for 1 post any other post with the same keyword will get you an error that says it's been used. This is the worst ever, a big strategy in SEO is clustering content around the same keyword. The content would be different but around the same subject and keywords. It's ok and recommended to talk about a handful of primary keywords. 
Yoast doesn't give you keywords speaking of keywords, SEO is all about your site coming up in the right search results. One of the major things Yoast doesn't do is it doesn't suggest keywords and doesn't tell you if the keywords you are focusing on will lead to the traffic you want. To be fair I wouldn't expect an SEO plugin to give you your keywords, BUT it's important to let you know that Yoast isn't analyzing your keyword effectiveness at all.
[I have a post here on keyword research if you need help: Is traditional SEO keyword research all wrong for today's Entrepreneurs?]
Yoast rules are guides not gospel  While I do love Yoast Red, Yellow, Green indicator that helps you know if you are doing well with writing for SEO; it's important to remember some rules can be (and sometimes should be broken) I've coached to many people that have told me how they spent hours trying to get the infamous green light. Remember it is nice to have not an absolute must-have.
There are some good things in Yoast
This post isn't all doom and gloom about Yoast. There some features I really like and the reason why I continue to use and recommend it.
Yoast gives you all of the SEO tag fields that you need. Meta tags, description tag, alt tag, etc. Yoast makes these easy for you to populate. You can also set up a preset template so these fields always are populated even if you don't create a manual description each time.
And one of the best features of the Yoast SEO plugin is the Yoast SEO Sitemap.  A sitemap is a little know file on your site that easily lets search engines know what pages make up your site. It gives search engines a full view of your site's page and page change's without depending on the web crawler to just find them. It helps pages to get found quickly and ensures everything is seen on your site. 
Yoast makes the sitemap process completely seamless and with a flip of a button easily turns on the site map which can then be found but search engines or you can give your sitemap location and it can be easily viewed. WordPress recently released its own sitemap but I'm still a big fan of Yoast tried and true site maps and think every site should have one link to their site in Google Search Console. 
In the end, there are lots of good SEO plugins out there, Rank Math, All in One SEO, etc. Yoast continues to be my top recommendation but it's important to know that Yoast alone doesn't make good your SEO good and there are a few gaps with Yoast and many of these plugins that you should be aware of.
If you need more help implementing SEO on your website, check out My SEO Workbook