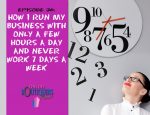 Time Management is like a dirty word for working mothers who are trying to live the business owner, entrepreneur, employedpreneur life.
There are never enough hours in a day and many of us struggle to get ahead while holding it all together.
In today's episode I give my answer to the dreaded questions "how do you get it all done?" and "how do I find time to grow a profitable business"
I break down 6 of the lessons I've learned working on this over the years and share a ton of resources to help you work smarter and not harder in your business.
Hopefully, there is even one that will make your day and biz life a little easier.
Here's a list of the business tools I mentioned
Acuity
Creative Market
Upwork
Fiverr
Also, don't forget my book 'My SEO Workbook' is now available on Kickstarter. Be the first to grab a copy and get other great rewards