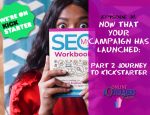 In today's episode, I talk about how it's going now that we are in full swing with the Kickstarter Campaign for My SEO Workbook. As I was researching Kickstarter and crowdfunding campaigns, I found a lot about how to set it up your campaign but very little about how to make it through the campaign and what to do once you hit the launch button.
Today, I share how my journey is going and what you can and should do during your campaign.
I share my promotion strategy, how I've done PR for the campaign and hired PR expert Jasmine Powers (jasminepowers.com) who wrote an amazing press release for the campaign, what I've done to keep engaged,  who you should target with your press release and just all the lessons I've learned along the way.
I used Kickstarter to Launch my book and my SEO Business Growth Membership:
I did 3 parts series on my kickstarter  journey, before, middle, and end. Here's the other parts to my journey:
Part 1: Can Kickstarter Help Fund your next Product https://girlgetvisible.com/can-kickstarter-help-fund-your-new-product/
Part 3: Life After the Kickstarter https://girlgetvisible.com/life-after-the-kickstarter-campaign/