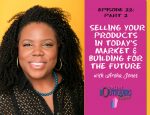 This episode is Part 2 of our interview with Arsha Jones of Brand Build Sell and the owner of 3 amazing brands  
Tees in the Trap
and
Capital City Mumbo Sauce
 about building  phenomenal brands and the true roller coaster ride of entrepreneurship.
This episode was so juicy I've split into 2 parts so you don't miss a nugget.
In this episode you'll learn
In Part 1 of this episode Arsha digs deep into
How Arsha is continuing to grow her brands
How we stay (or try to say LOL) focused with so many options out there
how a brand can build in today's space
how being an entrepreneur can/ and should change and shape your life
Resources and link mentioned in the episode
About Arsha
Arsha Jones is a creative soul with a penchant for marketing, sales, technology, social media, and popular culture. An emerging leader in the e-commerce industry, she has built multiple, highly profitable brands, one of which has seen revenues approaching a million dollars in less than two years.
Known for her quiet demeanor and business prowess,
Arsha
's brands have been featured in or on media outlets such as Buzzfeed, The Washington Post, Black Enterprise, FOX, CBS, and TV One. Her website,
BuildBrandSell.com
is where she endeavors to teach others how to turn their passions into profit with physical products. When not building her e-commerce empire, you can find
Arsha
spending time with her husband and children, enjoying a juicy nap or delicious bowl of ice cream.
Arsha also recently won the Black Enterprise award for Family Business of the Year Award at the
Black Enterprise
Entrepreneurship Summit.