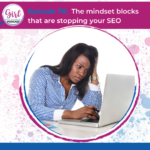 Take SEO, one step at a time
Hey Guys,
I am back again with another LIVE podcast episode, this time using Instagram LIVE!
If you have been an avid Girl Get Visible listener, you will know that I am passionate about the overall wellbeing of entrepreneurs. I have so many amazing past episodes where I've spoken or have had guest experts speak about taking care of ourselves as a business owner because quite frankly —- it can be A LOT! I'll add some links to those episodes, for you to check out.
In today's episode, I am talking about 6 habits that can block you from creating good SEO content and driving traffic to your site. As business owners, we can sometimes struggle with getting ourselves out there and really showing our clients that we are the experts in our space. We struggle with believing that no matter what we do, we won't get to the level we need to be.
I am here today to tell you, that you are blocking yourself.
Are you tired of waiting for your business to "kick-off"?
Do you struggle with SEO?
Do you believe you don't have the time to do all that you need to do to be successful with SEO?
Have you been doubting yourself and your business?
If so, I am speaking to you in this episode. You need to stop and listen now.
Don't forget to check out some goodies below, that was mentioned in the episode to support you in your SEO Journey!
MY SEO WRITER: www.myseowriter.com/demo  
FB Group: https://www.facebook.com/groups/SEOGoodyMob
Past podcast episodes to check out:
Episode 41: https://girlgetvisible.com/stop-sitting-at-tyler-perrys-table-and-make-your-own/
Episode 56: https://girlgetvisible.com/episode-56-the-other-syndrome/
Episode 58: https://girlgetvisible.com/how-seo-can-help-against-business-burnout/
Episode 63: https://girlgetvisible.com/breaking-through-the-myths-of-mental-health/