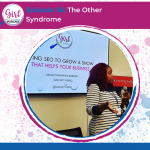 A lot of people know about the imposter syndrome, BUT did you know there is another lingering syndrome out there, that can also affect your business.
In this episode, I will be speaking about what I call "the other syndrome" and providing a few examples and tips of what to do to overcome it. This will be extremely helpful when you are working on different areas of SEO and your business, whether it is for links, pitching and even keywords.
Are you consistently questioning your craft and comparing it to other businesses?
Do you find yourself lost in what I call paralysis analysis, where you spend most of your time trying to figure out (ANALYZE) if you've done something right?
Do you have a fear of taking a chance or even starting over?
If you've answered yes to any of these questions or have other questions circulating in your mind right now, this is an episode you need to listen to. We are going to talk briefly about this "other syndrome", also known as, the "AM I DOING IT RIGHT" syndrome, realize its symptoms and find solutions to stay far away from it.
A book I recommend in this episode is called OWN IT: The Power of Women at Work by Sallie Krawcheck. One of the most powerful points in this book is the idea that we are afraid to QUIT, which stops us from taking chances. Listen to hear more about my point of view on this, and how it relates to the "AM I DOING IT RIGHT" syndrome. Make sure to check out this book!