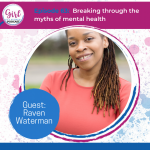 Mental Health Awareness
With May being Mental Health Awareness Month, it was extremely important that I connected with Psychotherapist, Life and Executive Leadership Coach, Raven Waterman, founder of Ravens Wings, LLC. As women in leadership roles and entrepreneurs, it is easy to lose the compassion for our business, with everything going on around us. So let's have this conversation about investing in ourselves!
In this episode, our guest expert, Raven Waterman, touches on the myths behind mental health, ways to seek support, and the reasons why good mental health can lead to success in both your personal life and your business. Raven also provides her guidance for more service-oriented entrepreneurs, and the truth in how difficult it is to assist your clients if your mental health is not in a good state.
As a licensed professional with quality experience in helping professional women live healthier lives, this episode will certainly help entrepreneurs and women in leadership roles, debunk the myths on mental health and invest in themselves with pride.
Is it difficult right now to pivot your business as a response to the current pandemic?
Are you interested in finding ways to seek support, but do not know where to start?
Are you losing motivation and compassion for your business?
Do you believe that getting help to support your mental health can be time consuming and a financial burden?
Do you know the difference between a mentorship, coaching and therapy and the ways each provide a unique perspective in supporting mental health?
If you have answered yes to any of these questions, I cannot wait for you to listen in.
Resources
As mentioned in the episode, please find Raven's FREE SELF ASSESSMENT to provide insight on areas you can work on to make yourself a better YOU.
Want to contact Raven?
Want to continue the conversation with Raven, please see her websites below
Biography of our guest, Raven Waterman, LCSW-R, CEC, CLC
Raven Waterman is a Psychotherapist, Life, and Executive Leadership Coach in NY. She's a wife, mother, executive leader, and entrepreneur. She owns Ravens Wings LLC and is an authority on helping professional women to live healthier and happier lives. Her clients are able to sharpen their vision, gain momentum around achieving their goals, and overcome roadblocks to their success.