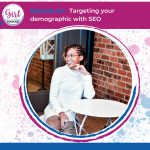 Ranking in a specific demographic
Today, I will be answering a great question I received: "Is it possible to rank within a specific demographic?"
The answer is – YES!
A lot of times we have discussed SEO and why it is important to target your audience, but has anyone touched on how to actually do this? We are now using multiple social media platforms for our businesses, so we need to think about targeting strategies to fit the audience on each platform.
As an entrepreneur, you have a responsibility to answer questions your audience have and provide them with the solutions they need. The only way you can successfully do this is by getting to know more about your demographic. This will lead to higher, quality rankings.
Are you concerned about the ranking of your site and business?
Do you want to feel more of a connection with your specific demographic/audience?
Are you fully aware of your audiences' wants and needs?
Are you concerned about how to target your audience on various social media platforms?
In this episode, I will be providing tips and examples on how to target a specific demographic using SEO and why it is important for your business.
Let's get targeting!
Need a little more guidance on SEO?
Download your FREE SEO beginners guide which has been updated to include 2020 information.
www.girlgetvisible.com/seoguide