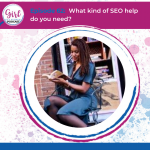 Part 3 of 3-part SEO series
In today's episode we will be looking into different ways, you can get help with your SEO.
So far in our 3-part series, I have provided you the differences between business writing (copy, content, SEO) and the knowledge to determine when you should hire an expert to help you. Now let's finish the series discussing the types of SEO experts and SEO services you can use. So let's talk about SEO Coaches, SEO consultants and SEO services. A consistent struggle I recognize entrepreneurs go through is not asking for the right SEO help. For example, a lot of people make the mistake of asking for an SEO consultant or requesting SEO services, but really want an SEO coach. By the end of this episode, you should be able to decide which expert is beneficial to hire for your business. 
Have you decided that you would like to hire an SEO expert, but not sure where to start?
Are you confused on the difference between an SEO Coach and an SEO Consultant?
Do you know of any SEO services?
These questions are really important to think about as an entrepreneur and small business owner, so here is the key in unlocking the right SEO help!
Are you interested in starting your very own podcast?!
Below is the episode I mentioned, where I talk about things you should know before starting your own show. Check it out!