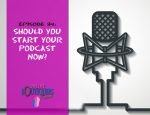 Should you start a podcast? Can a podcast help my retail business?
I hear this question at least once a month, should you podcast, how do I podcast, what do I need to know about podcasting. All of the questions. So in this episode, I talk about all the things that I know about podcast.
Why you should podcast and how podcasting can help your boutique or ecommerce business
Different types of podcast listeners
How to choose the content for your podcast
How podcast helps nurture your customer
Tips on what boutiques can podcast about
And the technical parts like where to host your sow, what of mic and software do you need, artwork etc
And how to get your podcast on all of the networks like itunes, stitcher, google play, Spotify, iheart radio and more.