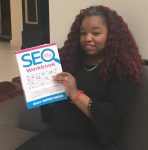 March 24. 2019 South Orange, NJ–
"My SEO Workbook" is a new book written to teach entrepreneurs and business owners how to implement Search Engine Optimization and get online traffic that their website needs to attract the right audience. This book isn't your average textbook where you just learn the subject, but it's written to be an action-packed workbook, journal, and planner to help people learn and do SEO.
Whether they are business moguls or entrepreneurial beginners, businesses depend on their customers for success, and many struggle with using advertising techniques to attract those customers. In today's competitive market, SEO marketing is more important than ever because it helps to bridge the gap and bring potential customers to their website. Search engines serve millions of users per day looking for answers to their questions or for solutions to their problems. If you have a website, blog or online store, SEO can help your business grow and meet the business objectives.
On Sunday, March 24th, 2019, Akilah Thompkins-Robinson, Founder of Online Boutique Source, will be hosting the launch of her new book "My SEO Workbook", at Seton University in South Orange, NJ, at 3:00 PM – 6:00 PM EDT. During the event, Ms. Thompkins-Robinson will sign copies of her book and do a live Q&A on how SEO can help small businesses grow.
To learn more about the event, please visit https://www.eventbrite.com/e/my-seo-workbook-book-launch-event-tickets-57700451604
"My SEO Workbook" is an activity-rich search engine optimization guide to help achieve the goal of SEO and get more traffic and customers to find their business online. This amazing book was funded on Kickstarter in September 2018 where the project reached its funding rate by 130%. "My SEO Workbook" will grab your attention from the very first page due to its striking mix of literary elements. It is a must-read for not only bloggers/entrepreneurs, but anyone who wants to build their online presence and authority
With the launch of this book and hosting her first launch event here in New Jersey, Akilah is happy to make this resource available to entrepreneurs and small business owners especially women entrepreneurs just like herself, here in her home state.
About the Author
"My SEO Workbook" is written by Akilah Thompkins-Robinson with 15 years Information Technology experience, an African American female born and raised New Jersey and graduated from Seton Hall University and Stevens Institute of Technology.
Akilah has been named one of the 25 Best Marketing Influencers You Should Follow in 2018, and one of the Top E-Commerce Marketing Podcasts. She has been nominated for 2015 Online Retails Award and has been a guest on dozens of podcasts and sites.
After quickly growing her site's traffic to over 6000 hits in the first 6 months and continuing to have it grow over the years, she has branched out to helping 100s of entrepreneurs get their sites found online too.
For more information, please visit: myseoworkbook.com or send an email to Info@onlineboutiquesource.com