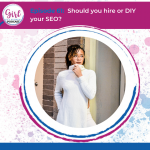 Part 2 of 3-part SEO series
Today's episode will be part 2 of our current 3-part series. I will be introducing crucial signs of when it is best to hire an SEO expert. Examples of SEO experts are, SEO writers or SEO coaches, which can be helpful for your business. BUT, before you decide to hire an SEO expert, you may need to pause and think about this……
SEO done right today, is not just about using a lot of keywords and writing articles/blogs. While this might generate traffic, it may not generate sales because you really don't know if you are connecting with your business and customers. Before you can hire an SEO expert, you need to make sure that your VOICE and your BRAND is already built.
Are you an entrepreneur or small business looking for SEO help?
Is SEO confusing or frustrating to you, so you are now ready to hire an SEO writer or coach?
Are you struggling to connect your voice to your business?
If you've answered yes to any of these questions, you are on the right episode and I am here to help!
In need of watching part 1 of our 3-part series, check it Episode 60 – Copy vs. Content vs. SEO.
Bonus: I also will be mentioning a few resources to start your SEO journey. Links are below for your convenience.