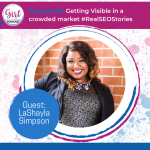 Standing out in a crowded market is one of the biggest challenges and fears of our businesses. Well, there is a bigger market than the bridal industry.
This episode's guest LaShayla Simpson of ellesdreamevents.com/lets-party tells her journey with finding her audience and attracting them with dope content that is unique to her business and her tribe.
About LaShayla
LaShayla Simpson is the colorful live wire behind Elle's Dream Events, a wedding/event planning agency that serves unconventional brides. Know a bride that wants to wear RED on her big day? A bride that wants to wear pants? A bride that has tattoos that she doesn't plan to cover? A bride whose "something blue" will be her hair? Those are her people.
She offers planning and consulting services, has a bridal academy (called the Dope Bride Academy) for brides planning their weddings themselves and is working on a curated directory of Black event vendors that people can access to build their dream wedding team.
Her ultimate goal for every one of her clients is to ensure that their wedding is the dope day they've always envisioned it to be.
She'd love for you to be one of those clients.
Website – ellesdreamevents.com/lets-party