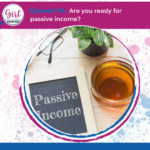 How can you become mentally prepared for passive income.
HEY GUYS – We're Back!
After coming from a mini summer break, I couldn't wait to dive into this topic about passive income. As we start to emerge and embrace what is considered the "new normal", entrepreneurs and business owners are becoming more interested in different ways to earn more income.
My most recent conversations with some clients and even my own coach, have all been around passive income. To put it bluntly, the reason we may not be successful with passive income is because our mindset needs to change. We have this mindset that we need to always do more, which can potentially cause business burnout.
Entrepreneurs and business owners, like myself, tend to struggle with the thought that we must be actively creating something new or working a lot of hours to make the income we want. Have you ever thought about  instead, focusing  on maximizing the content and products you already have? 
Think about these questions as you dive into this topic:
Are you ready mentally to start making passive income?
Have you taken a step back and analyzed your business to see where you could maximize what you already have?
Did you know SEO is a great way to potentially earn passive income?
Remember. Do not focus on the quantity of what you do, but more importantly the quality. Quality of your content, your products and your business. You got this!
Here are some previous Girl Get Visible Episodes to check out about burnout and mental health:
GGV Podcast Episode 58: How SEO can help against business burnout
GGV Podcast Episode 63: Breaking through the myths of mental health with Raven Waterman
Also, if you're looking for some quality blog content ideas, check out : girlgetvisible.com/blogs101