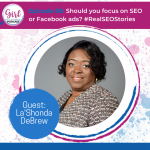 #RealSEOStories
Have you struggled with choosing between running Facebook Ads or focusing on SEO to get customers and clients to your business? We always hear from the gurus and the experts about the would do but in this episode, I talk to La'Shonda DeBrew, a business owner, just like you about her decision between the 2 and how here choice has helped grow her business, podcast, and made content creation so easy that she can focus on other things.

Also, added bonus since La'Shonda is a virtual CFO (aka the money lady) she also talks about the cost and cost savings of choosing between the 2.
La'Shonda DeBrew is the founder of the Wealthcheck 360 Institute and the Wealthcheck 360 System™.
She is a seasoned, savvy, entrepreneur, tax strategist, Retirement Specialist, Speaker and one of the nation's leading authorities in the areas of tax planning, debt destruction and financial strategy. In addition to her ability to stay in action, get results, manage successful outcomes, and be innovative, she shows clients how to increase and grow their bottom line daily.
La'Shonda's passion and proficiency is in saving clients time, money, and energy, so that they can make more, keep more, give more, and ultimately live more. Her calling is working with driven, excuse free womenpreneurs who struggle with finding financial peace; through coaching her clients she enables them to live in financial freedom and establish their path to wealth.
Her motto is: "…if you can perceive it, believe it, you can achieve it!" http://www.lashondadebrew.com