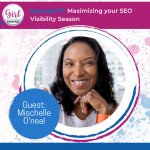 In my recent emails, I talked about the Visibility season and how we need to get our sites ready to be found and get traffic when these seasons happen and people are looking for all the help they can get. 
In preparation for our next Girl Get Visible Workshop (https://girlgetvisible.com/workshop) I interviewed Mischelle Oneal of https://masteringyourmonday.com/ about her SEO journey and how she's been using it to win with content creation, pitching, and even creating her products on MemberVault.

SEO is the long game and even better it's the game that you can keep winning without doing a lot of extra work each time. the work you put in today will show up season after season because the content doesn't go away.