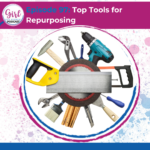 "The world is not going to let us get away, without doing video"
We can no longer run away from video content on social media platforms. From Tik Tok to Instagram Reels, everything now gives preference to short clips. Now, I know not everyone has the time, experience and desire to work with video. So, let's talk about how to increase our use of the very strategy that social media platforms give preference to.
Did you know that better performing video content is about 60 seconds? Girl, think through some of your content that can be repurposed today.
There are seven video editing tools I use to repurpose content for social media. These tools are easy to use. inexpensive, and professional looking.
In this episode, you'll learn:
Why is video content necessary in 2022?
How to repurpose content you already have?
What tools to consider for your business for repurposing content?
How can each tool fit your business needs?
Resources
Below are all the tools I speak about in this episode. Check them out!