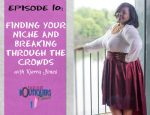 In This Episode:
So you have a great idea or a great product?
Now you need to find who you and your brand should target. How do you do that? From white collar to blue collar, from hi class fashion to hipster chic, and from upscale business to anime otaku everyone has a niche in the market.
In today's episode, our guest  Kierra Jones of the K Jones Collection share how you can help you identify and find yours.  Kierra is a top boutique owner and an empowerment & success coach who shares with us how  she found her niche and the impact it had on her boutique business. Kierra has had a lot of breakthroughs in her first few years of business and she givesher special golden tips to help you separate yourself from the crowd and get more sales.
What You'll Learn:
Why narrowing you target market is important
Tips on how to find your niche
How to get setup for growth
Where to find great research
Why creating a following helps with finding your niche
What it is like to have a mindset shift.
Kierra's Quote
"Share your shine!" – Kierra Jones
Books to check out:
How to find Kierra:
Kierra Jones Bio
Kierra Jones empowers women entrepreneurs to shine inside out for the world to see. She does this through confidence building, success coaching, & style!  Kierra is the owner of The KJones Collection, a curated online jewelry & accessory brand catering to women entrepreneurs who want to be stylish & successful as well as an Empowerment & Success Coaching to women entrepreneurs helping them release the limitations that hold them back so they can confidently share their gift, unleash their potential, & take action to build the success they want & deserve.  "I not only provide bold pieces for heart-centered & ambitious women entrepreneurs, but the attitude & confidence to go with it!"- Kierra Jone