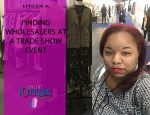 We've all heard of people heading the Magic Show in Vegas, Accessories Show in NY, the Atlanta and Dallas marts and many other tradeshows around the country to find wholesalers and products for their boutiques.
But who really knows where to go and what to do when you get there.
When I first started working with wholesalers in 2012, the Magic Show really sounded like a wonderful "magic" place, that I had no idea if I'd ever be big or official enough to go. Well fast forward 4 years from them and now I'm able to attend multiple shows a years and shopping for myself and for my clients.
And In this episode I'm taking you with me 😀
I always get a lot of questions from different boutiquers about attending the shows, what do you need, what to do and everything else, so I'm removing the mystery and giving you all the deets for prepping and attending your first retail tradeshow event. The ins and outs of attending your first fashion trade show event for your boutique.
What You'll Learn
Why you should attend an event
Where to find events
How to register for events
Preparing for your visit and what to bring
Tips on vendor information
Dressing up for the event
Shopping with the vendors
Do's and Dont's for events
To make it even more fun I've uploaded a video from recent events, so you can really experience all of the fun retail excitement these events have to offer us
Resources and Links