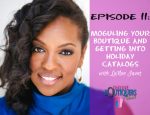 In This Episode:
We've got something special for you. Our guest LaNée Javet is the "Mogul Motivator". She will give you the tips you need to make yourself a mogul. We discuss the true definition of a mogul, the mindset of a mogul, and the steps needed to make you the mogul you want to be.
LaNée shows you how to prepare your business to advertise for the holidays. She shows you how to properly create an advertisement and gives you tips on where to put your advertisements.
With the overwhelming success that her company CulSire has had with its subdivision the Black Business Catalog, Lanee tells you how to get into the catalog, and also gives all you online boutiquers some AMAZING DEALS on advertising with The Black Business Catalog.
This episode is sure to have all you boutiquers entertained and educated!
What You'll Learn:
How to be a Mogul
How to run your business like a Mogul
The Mogul Mindset
How to get into a business catalog
How to prepare to be in a catalog
Advertisement Do's and Don'ts
Which catalogs to advertise in
LaNée Javet's Quote
"Our deepest fear is not that we are inadequate. Our deepest fear is that we are powerful beyond measure. It is our light, not our darkness that most frightens us. We ask ourselves, Who am I to be brilliant, gorgeous, talented, fabulous? Actually, who are you not to be? You are a child of God. Your playing small does not serve the world. There is nothing enlightened about shrinking so that other people won't feel insecure around you. We are all meant to shine, as children do. We were born to make manifest the glory of God that is within us. It's not just in some of us; it's in everyone. And as we let our own light shine, we unconsciously give other people permission to do the same. As we are liberated from our own fear, our presence automatically liberates others" – Marianne Williamson
How to find LaNée Javet
Books to Checkout:
Think and Grow Rich: A Black Choice – by Dennis Kimbro, Napoleon Hill
Special Dates / Promo Codes:
15% Discount Code: "OBS15"
Graphics Due: Oct 31
Catalog Goes Live: Nov 14
Ad Runs From: Nov 14 – Dec 31
LaNée Javet – Bio
LaNée Javet is CEO and Founder of CulSire.com, the premier lifestyle, education, entertainment, and empowerment destination for people of color around the world.  She is the founder of The Mogul Institute and provides business consulting services to other entrepreneurs through her Mogulvation, LLC. She facilitates the operation of various projects, websites, social media campaigns, and events of her own. She has successfully raised $10,000 in crowdfunding in her first attempt and her very first website project (CulSire.com) reached 3 Million page views (from over 1 million visitors) in less than 7 months from its launch on March 15, 2014. For the one year anniversary of CulSire, she brought 55 Black-owned businesses together to sponsor and elevate the exposure of the event.
LaNée is also a social media networker and connector. In just under one year, she has grown her combined personal and business social media platforms to more than 50,000 followers.  This does not include her Facebook Group B.E.S.T. (Black Entrepreneurs Succeeding Together) which has over 5,000 members. She has learned how to utilize social media as a platform for creating great business opportunities and networking.
LaNée is a self-proclaimed Mogul Motivator.  She has a passion for elevating Black entrepreneurs and organizations to their individual mogul stature.  As a mogul in her own right, she is not only a Mogul Business Champion for herself, but also for others who want to see their business grow and be successful.