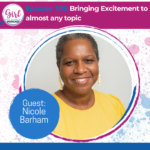 Let's Bring Excitement to Entrepreneur Finances
As entrepreneurs, it is important to build a sustainable business that keeps the cash flow going, while also achieving all the goals we have for ourselves. With consistent SEO and Visibility strategies, your business is going to boom, so your next step is to easily track your finances, without the stress of "budgeting".
In this episode, we connect with the amazing Nicole Barham, Founder and CEO of Design Your Wealth, to get her perspective on what every solo-entrepreneur should know as they manage their business finances. In this transparent and necessary conversation, Nicole opens up about how her experience with bankruptcy led to her determination of never being in debt again. Her journey led to developing the well-known solution, 5-minute bookkeeper, which supports entrepreneurs with staying on top of their finances in little to no time. Finance and Budgeting is not a fan favorite, so to bring excitement to this topic, Nicole has successfully done two things:
Kept the solution she created, simple
Made sure there is consistent community and support, while not keeping clients alone with the system.
Now you're probably wondering, is this conversation important to me and my business? The answer is yes. Throughout Nicole's time of building her business, she quickly realized that other entrepreneurs needed help with tracking their finances too. Using her own visibility strategies of being on social media, getting invited to podcasts and engaging in her community, she has made almost half a million dollars in sales, and has been featured on well-known organizations, such as Good Morning America, to share her secrets on how to easily stay on top of finances in a short period of time.
So, instead of stressing about your business finance, dive into this episode to gain that financial peace of mind.
In this episode you'll learn:
What are things most entrepreneurs wait to do, which could cost them money?
How tracking your business finances can be easy and exciting?
What are some ways to bring excitement to business finances?
Why building a community can motivate your clients?
What are suggested visibility strategies to reduce how long you are on social media?
Resources
Contact our Guest
About Nicole Barham
Nicole (she/her) works with women entrepreneurs to help them go from being stressed-out about money to financial peace of mind. She's been featured in First for Women, Medium, Time, Black Enterprise, and Essence magazines and seen on Good Morning America sharing her secrets to getting and staying on top of your finances in just a few minutes a day.