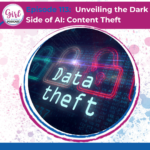 Uh Oh the AI Shift is starting to hit the fan!!! In the last 2 weeks AI Copyright Infringement has been a hot topic in the news and in the months since the Chat GPT Explosion we are seeing more and more lawsuits against Google Bard and Open AI that can change the way we use AI for good.

If you've used Chat GPT, Bard or any of these other tools and you've thought about the safety of your own content you don't want to miss this episode.
Tune in as Akilah tackles the pressing issues of AI machines scraping data without proper sourcing, leading to legal battles over unauthorized usage. And my thoughts and some other trusted creators' thoughts on the potential future changes in the AI landscape, with companies being held accountable for attributing their data sources.
Drawing from real-life examples and legal discussions, host Akilah Thompkins-Robinson also explores the consequences faced by businesses that claim ignorance when it comes to ethical AI.
We go deep in this episode talking about
hot takes that are coming out about these lawsuits against AI companies
share tips and resources how business owners can protect their content and protect themselves from using copy written content
In sight on how 3rd part tools that use AI like SEO Assist (https://seoassist.com) and Opus Clips (https://clip.opus.pro/) can get you better results when using AI
talk about all of the thing entrepreneurs should know as content creators and Content consumer
Resources referenced in the episode:
I know we didn't have widespread copyright infringement on our 2023 Bingo Cards but here we are, 2023 is turning out to be a fascinating journey into the evolving world of content creation and protection.
So grab your favorite beverage, sit back, and get ready to be enlightened on this captivating episode, "The Dark Side of AI: Content Theft"
Let's empower ourselves to navigate the realms of AI and protect our creative endeavors. It's time for Girl Get Visible!
As always join us in the SEO Growth Mob Facebook Group to Continue the Conversation https://www.facebook.com/groups/1743775969260900
Watch the Episode Here: