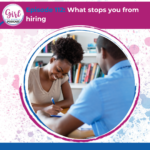 Let's talk hiring
In this podcast episode, I thought it would be important to talk about why most business owners will not hire or outsource their tasks to others to complete. This topic came about when I was conversing with a close business friend of mine, Dottie Reynolds. Dottie had a very intriguing question, which made me wonder why business owners hire coaches to be taught to do things on their own versus outsourcing that workload.
When I first started my business, I was guilty of doing everything on my own. I am capable of doing the majority of the facets of my career, but having my team has made everything so much easier to concentrate and execute. I absolutely feel like a girl that got visible!
In this episode, I speak about at least 7 different reasons as to why someone will not be hired, someone else for their work and things you should consider when making that decision. Whether it is due to cost, perception of what you think is hard work, or not trusting others to work on your business niche, every business owner has their own reason.
You'll learn in this episode:
What are the typical reasons someone would avoid hiring someone, for their business?
What are the top reasons why someone will not outsource work?
Why outsourcing may be considered expensive versus getting coaching?
How to know when it is time to outsource that workload?
I hope this episode really helps you to invest in yourself and not always rely on outsourcing talent.
Resources:
You can check out Dottie Reynolds: https://www.facebook.com/dottie.reynolds10