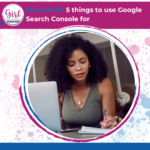 Let's Get Found.
As a business owner, knowing what your site is getting found for and its performance, is important. However, not many people know how to review their site's traffic and performance, to reach the right audience. I have coached numerous business owners, who've had their site for many years, but did not know what they were showing up for on Google. Now, I know a lot of people are familiar with Google Analytics, but I have something even better that can provide you with data you need.
It's time to share the underrated secret tool of SEO, Google Search Console.

Google Search Console is a FREE tool, that allows you to review and make necessary corrections to your site to optimize your visibility in Google search results. You can get data on, the words your site is getting found for, backlinking for your site, how well your page is doing in search and even how many pages Google is seeing from your site.
This episode walks through five ways to use Google Search Console to your benefit. Whether it is to track your performance or measure your growth, if you are serious about SEO and how Google sees your site, search console is your next tool to use.
In this episode you'll learn:
Why Google Search Console is important for your site?
What indexing and video indexing is?
How to track performance and measure growth using Google Console?
Why detecting issues early on is easy with Google Console?
What ways you can use Google Search Console to find topics?
Let's get started!
Want to know how to set up your Search Console account and Site Map?
Find a quick tutorial on how to do just that, by going to https://youtu.be/zaiWODRTHpc
Resources