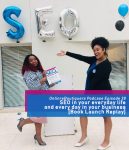 A few weeks ago I hosted a launch event at Seton Hall University for my new book My SEO Workbook .
I recorded I took a minute to record the talk and QA I did at the event to share will my podcast audience and bring you into the world of SEO and how I went from mediocre blogger to SEO Coaching the world ( LOL)
But seriously this talk about how SEO can help become part of your life and business really helped put into perspective for my guest and I hope it will for you too.
The Q&A was really great too we talk SEO for Non-Profits, Contractors, to just getting started and how you can use SEO research to help guide you in starting your business.
In this episode you'll learn:
Why you need SEO in your everyday life and every day in your business
What are the real issues people have with implementing SEO and how to work through them
How long did it take to write the book and the book writing  process
How I get all of the content written for your site and make SEO easy and work with how I run my business
What SEO topics should you write about if you have a nonprofit and your goal is to get sponsors
and a really important question about how I make money with content and SEO,  including my passive streams of income, ecomm product income and my teaching and coaching income streams.