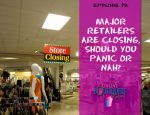 In today's episode we talk about something a little different, the latest trending retail stores going out of business.
This isn't a new trend it happens every year after the holiday season makes or breaks retailers, but the recent closings have caused a bit of panic and insecurity in the online retail space. So, in this episode I talk about what we need to do turn this into a real opportunity for our online retail businesses.
Also to make the most of the strategies I share in the episode, I've created a list of the top stores that have closed or closed locations in 2016-17 and their social media followings for you target ?
Enjoy the episode
Resources: