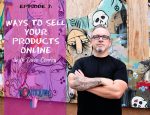 In this episode I talk to Dave Conrey of Fresh Rags.com about ways to sell your products. Dave has written a great eBook, "Maker's Dozen: 12 Alternatives for Selling Handmade Goods Online" . In this interview we discuss some of the top online selling sites, selling through social media, and how to make your products stand out. This episode has a lot of great information for all but will really appeal to creative entrepreneurs, Etsy shop owners, designers, and other handmade professionals who are looking for ways to make more out of their craft.
What You'll Learn
What Online Selling Sites are most effective?
How should someone evaluate which is the best selling platform for them?
Should sellers put their eggs in one basket and only sell on one platform or is best to spread their sales around?
Should selling on a 3rd party platform be in addition to selling on their own site, or replace it?
How can you use a 3rd party platform to drive sales to their own site?
What are someone way to standout on a market place site?
Other tips for enhancing the sell of handmade goods.
About Dave
"Dave Conrey is an artist, designer, and media strategist whose goal in life is remove the phrase "starving artist" from the world's vocabulary. Through his writing and his podcast, he pledges to fight for a much needed creative revolution.
Links and Resources
Subscribe to the Podcast
Don't miss an upcoming episode subscribe in itunes
Feedback on the Podcast
If you enjoyed the podcast please take moment to give us a Review of on iTunes. If you have any questions or suggestions for upcoming shows please leave a comment below or join us in the Online Boutique Source FB group.