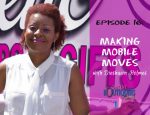 In This Episode:
Dieshawn has successfully accomplished one of the biggest dreams of online retail owners, she brought her products offline. But not only did she open a brick and mortar space she made it even more fun (and sales) by opening a mobile fashion truck. Imagine you're Dieshawn, you're at your home office looking at this month's financials, checking overhead cost, counting orders received and comparing those numbers to last months, and keeping track of new orders verses returning orders. That's when you notice that you're not getting any orders from your own city. Now this new revelation has you in a frenzy and has you thinking, "I mean how can I not be reaching my neighborhood, like this is MY hood. Why aren't I getting any sales here? Why am I not serving my area? My product should be everywhere in my city, if not, then in a few places." Now the problem solver in you starts going to work. You clear your workspace, bring out pen and paper, and start brainstorming. After a couple of hours of brainstorming, you realize that you have absolutely nothing. Now you're depressed and upset. With your head down and forehead pressed against the desk, you contemplate "your whole existence. When slowly but surely you start to hear a familiar tune "Do you ears hang low?" "It's just the Ice Cream man riding around," you say to yourself. That's when it hits you, like that first refreshing dive into the pool on the hottest day in the summer, "Let's take this show on the road!" Our guest Dieshawn Holmes didn't do that exactly, but she saw needed a way to reach the people in her city and she thought of becoming mobile
We also talk about collective organizations and benefits to being a member of a paid group, collective, or guild if you will. We also talk about what type of photographer you should hire to take products. Hint: the first word is product and the second is photographer. I won't say anymore than that. Anyway, this episode, like always, is filled with tips and tricks to get your company up and moving.
What You'll Learn:
Why having a mobile operation may benefit you
The power of word of mouth
What it's like to balance a gift shop, mobile shop, and an online store
What people to share your dreams with
Dieshawn Holmes' Quote
 "Go as far as you can see, when you get there you'll see further." – J. P. Morgan
Books to Check Out
Become Your Own Boss In Twelve Months – Melinda Emerson
How to find
Dieshawn Holmes' Bio
Angelic Soaps and Gifts is a unique herbal Bath & Body business started in 2002 by Dieshawn Holmes in Flint, Michigan. After taking an enrichment class offered by the local school district, where herbal bath products and herbal soaps were handcrafted, a passion for soap making evolved.
When Dieshawn decided to go into business, she wanted to select a unique business name that would inspire and leave a lasting impression. Angelic Soaps and Gifts was the perfect business name that aligned with the company's mission and purpose. With the assistance of family members Angelic Soaps and Gifts was born. Initially selling by word of mouth and later selling at craft shows, Angelic Soaps and Gifts has grown.
Angelic Soaps and Gifts can now be purchased from Angelic Soaps and Gifts, gift shop located in Swartz Creek, Michigan. Angelic Soaps and Gifts can also be purchased from our mobile gift shop, located inside of our renovated GMC delivery truck.  Angelic Soaps and Gifts can now bring bath and body gifts to your door.