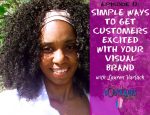 In this episode we talk to Lauren Varlack of Visionary Stationary and the creator of the Brand Flava Quiz ://visionarystationery.com/brand-flava-quiz/. Lauren is a premier designer in the Atlanta area and specialize in helping business find their unique design style.
In this episode Lauren talks about branding your boutique, finding your unique style and purpose.
Here's what you'll learn:
how visual element of your brand help people connect with your boutiqe
the importance of choosing colors that portray the emotion of your brand
using imagery to encourage more retail sales
the visual elements you need to represent your boutiques brand
A little about Lauren
Lauren Varlack is the chief designer and strategist for Visionary Stationery | Lauren V. Designs. Lauren helps women entrepreneurs, especially women of color, unleash their purpose to create a spectacular visual brand that effectively communicates your powerful message to your dream customers and clients.
Lauren has always been fascinated by art, design and computers from a very young age. She spent some time honing my craft by obtaining two Bachelors of Arts degrees: one in Social Sciences and Education, and the other in Fine Arts Digital Design. Lauren received accolades and awards as a high school teacher of 5 years. Also, since 2009, created beautiful visual brands for awesome business and clients through being a web and graphic designer many who are still loyal clients until today.
The vision for Lauren's business came from the lack of authentic expression in the entrepreneurial world for African-Americans. At a point of emotional breakdown, in searching for stationery and visuals that represented who she was and her walk, Lauren noticed there were none.  So Lauren decided that it was time that we as African-Americans be who we are; unapologetically, do what we are called to do in life and business, and use visuals that represent our way of life.
Thus, Visionary Stationery—Lauren V. Designs was born. When you work with Lauren, you will gain an effective plan and execution of your brand's vision and message that speaks visually to the needs and desires of the clients and customers you want to embrace and work for.
Your purpose is waiting to be unleashed and told in a colorful way! Sign up for a free brand assessment here: http://bit.ly/freebrandcheck