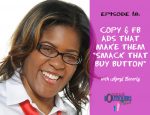 In This Episode:
You need to find a way to convert all those page visits in to purchases? Well our guest, Apryl Beverly has the answers you are looking for. Apryl is the million dollar word stylist well know for he straight no chaser approach to copy writing and business. Famous for her catch phrase 'Smack the Buy Button" (don't we all need that), Apryl is an accomplished copy writer, author, and entrepreneur. In this episode Apryl shares tips on writing copy for online boutiques and Facebook Ads from her best selling book F.A.S.T. Money! The Easy Way to Use Facebook Ads to Hook Smokin' Hot Leads.
What You'll Learn:
The keys to Facebook ads
How to get your first 100 likes
Page, Video, Group
How much to spend on ads
About Apryl
Apryl Beverly crafts compelling copy that has generated $7,022,810 (and counting) in revenue for B2B solo entrepreneurs, small business owners and some of the country's top brands.
Known for her action-inducing writing style, she has earned a variety of awards and recognitions including hitting the Amazon Best Seller's List in 3 categories just 24 hours after releasing her first book, Shots Fired! How to Write Copy that Pierces Hearts (And Opens Wallets). Her second book,F.A.S.T. Money! The Easy Way to use Facebook Ads to Hook Smokin' Hot Leads shot to the No. 1 spot on Amazon's Best Seller's List two days before its official release.
Apryl has 15 years of experience in copywriting, marketing communications and proposal writing. She is a graduate of The Ohio State University in Journalism and the University of Phoenix in Masters of Business Administration in Marketing. Visit www.baab.biz to find out more about her spine-tingling sentence slinging.
Apryl's Favorite Quote
"I've learned that people will forget what you said, people will forget what you did, but people will never forget how you made them feel."
Book's to Read
"Power Permission Fire Your Fears – Shemicka Tankerson"
How to find