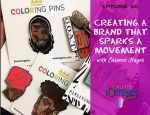 In today's episode we talk to Essene Hayes of
Coloring Pins
and Essence Murjani . Essence and her pins has been at the forefront the black girl lapel and patch movement. She's been featured in Buzzfeed,
Blavity
, Essence Magazine, and a host of celebrities. By making what she loves she has not only created a break out brand but she has ushered in a new movement of style and out culture
In this interview Essence shares
The inspiration behind her brand
The process to creating new products
The introducing it to an audience that didn't even
How Essence grew her brand from an idea to being worn by influencers such as Issa Raye of Insecure
Quote: "There is no what ifs, there is only what's next" Essence Hayes- Coloring Pins
Reference links:
Brief Bio
Coloring Pins was birthed from my wanting to wear pins, but not seeing any for me on the market. There are tons of cute pins, but none of them resonated with me or made me feel like I had to have them. I wanted a pin that was an extension of me, and I wanted to be able to walk with a pin that spoke before I did".- Essence Hayes, Owner, EssenceMurjani Jewelry Coloring Pins is a brand that represents people of color, the mis- and underrepresented. We want people to feel and see themselves in a very popular market. We will expand to apparel and other merchandise to complement our popular accessories. Coloring Pins is just here to add a bit more color to the pin game.