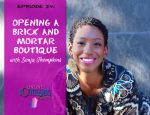 We mainly talk about online retail here on OBS, but occasionally we get asked about opening a physical location for your boutique business or even hosting a pop-up shop or vending event. So in this episode I invited Brick and Mortar
Retail Coach Sonja Thompkins
to share her expertise in owning a physical retail location.
In this Episode you'll learn:
What to consider when opening a physical boutique
ways to open a boutique on a budget
the advantages of having a physical location
ideas for doing pop up shops and vending events.
Resources Mentioned:
Sonja's Bio:
After owning 4 businesses over the last 20 year, I'm on a mission to redefine what it means to "work for a living". Instead of finding a job, I say make one for yourself. Just so happens that owning brick & mortar boutiques was my jam. Now I teach my clients how to have boutique businesses that fit their lifestyle and that customers flock to. I do this through this blog, my popular digital products & successful coaching programs. I'm also a foodie, mystic, wife & mother.