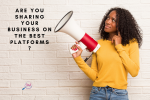 Let's talk Platforms…
A platform is where your voice can be seen, heard, and found. If people can't find you and visit again and again your message will be lost and drowned out by all of the other loud voices.
Most people spend a lot of their time on social media, missing out on one the true joys of a good content marketing strategy which is having content that continues to work when you don't.
SEO Content marketing for small businesses isn't just about keywords entrepreneurs need and links, but a huge part is having your voice and your messages found in the right places. To get the most out of your content marketing strategy you need to have content on the right platform.

The 3 best places to create your platform
1. Your website- this should really be the source of your business. Your site is where you can freely share your knowledge and lead to your products.
2. Podcast- a podcast is a great way to share your knowledge and bring on guests with overlapping audiences to boost the visibility of your content.
3. Youtube- video is growing people want to see examples, get walkthroughs, and overall connect with you. Building a repository of your video content on youtube is a win-win, you can house videos on youtube and embed them on your site and other sites to double the exposure. (check out my post on Facebook videos vs Youtube videos for more info on this)
These platforms give you a huge SEO benefit because you control the content, they are searchable in the search engines, and people can binge on your content without being distracted by others.