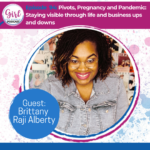 Staying visible through life and business ups and downs
In this episode, I am so happy to speak with Brittany Raji Alberty, founder of The Marketing Midwife, to discuss how she successfully stayed visible while managing life and business.
Brittany attended one of my courses on using SEO a few years back, and we recently reconnected on Club House. She is now an educator to other entrepreneurs on how to be successful through ecommerce, online visibility, and content strategy. In 2021, her top visibility strategies were using Club House, Content Marketing and Live streaming to help others articulate their expertise area, which led to generating over $200,000 in revenue.
Brittany pointed out that as a new mom and entrepreneur, its difficult to keep up with all the demands coming your way. She did a fantastic job of providing real and much needed insight, that a lot of other entrepreneurs or coaches, might shy away from. 
Struggling with e-commerce and online marketing, is not new. Additionally, struggling with experiences such as postpartum pregnancy, being a mompreneur and wife, and the pandemic, is not new.
In this episode you'll learn:
How to start taking advantage of online marketing, regardless of how long your business has been around?
How search engine optimization (SEO) strategies are important for your business?
How our guest, Brittany, supports other entrepreneurs in their goal of visibility online?
What's it like being a new mom (mom-preneur), while managing a scalable business?
I truly enjoyed speaking with our guest Brittany, and I know this will resonate with at least one of my listeners.
Resources
Favorite Books to check out

Miracles Happen by Mary Kay Ash
Believe Bigger: Discover the Path to Your Life Purpose by Marshawn Evans Daniels

Favorite CRM: https://leadstofunnel.com/
FREE Masterclass
Contact Information
ABOUT BRITTANY
Brittany Raji Alberty is an entrepreneur, and educator who assists black women entrepreneurs to transition to online operations.
She founded E-commerce brand in 2015 after 5 years traveling to trade shows, 4 retail partners and 100 of pop up shops her operations transitioned to completely ECom in the 2020 due to Covid-19.
Alberty had her highest revenue year and fell in love with online operations. Using SEO, content, emails marketing, and Facebook ads she literally woke up every morning with sales. By the end of 2021 she sold her intellectual property for the business and transitioned to coaching & consulting others to digital marketing & e-commerce operations.