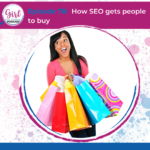 Having good SEO is the goal
When you hear about SEO, the ending tagline is always just, it attracts more traffic to your site. But I am here to tell you that SEO is much more than that. In this episode, I talk about how SEO attracts the right traffic to your site, grows your brand and makes residual income.
When you have good SEO, it prepares people to buy from you. It helps people along their buying journey when they are checking out your products, so it's important we focus on doing this process right. I am always looking for a way to increase my clientele and sales, without having to become a salesperson, and I am sure there are other entrepreneurs who feel this same exact way.
After years of studying, using and teaching SEO, I have found 5 reasons on why having good SEO is essential to your business. I am sharing them within this episode, so that you can win too.
Do you want to attract the right traffic to your site?
Do you want to educate people on what you have to offer?
Are you looking for an easier way to introduce your offers?
Do you think people would like and trust your products but don't know how to get them to see?
Are you trying to gain more traction and be more shareable on social media?
If you' ve answered yes to any of the above questions, this episode is just for you.
Want to learn more on how to keep building on your SEO the right way. Please see some great options to check out below:
My March Magnetic Content Challenge, also begins today, March 8, 2021 and it is a 5 day program that transforms your content to attract the right client. It will also help you with understanding how these 5 results work together for your benefit. It is not too late to join the challenge at girlgetvisible.com/challenge
Join our SEO Growth Mob Facebook group: https://www.facebook.com/groups/SEOGoodyMob
Enjoy the episode!